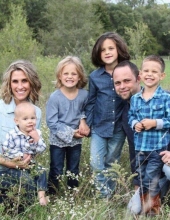 Obituary for Timm Bauer
Timothy Adam Bauer 36, of Blair, NE was fully healed in heaven from his 5-month battle with cancer Wednesday July 3, 2019. He was welcomed into the arms of Jesus with joy and thanksgiving.

Timothy was born in Crete, NE on October 16, 1982 to Dr. Thomas and Susan Bauer. He attended Lincoln Christian High School. He was a standout student and athlete, winning a doubles state championship title in tennis. He graduated in 2001. He began his undergraduate with a regent scholarship at Northwest Missouri State. He graduated with a Business Degree from the University of Nebraska Lincoln in December of 2005. On December 20, 2008 he married the love of his life Kelsey Reed. Timm switched career's last summer to work in the Reed family business. His one year there will have a lifelong impact on the business and Kelsey's family. Timm loved Jesus with all his heart. He spent the last 5 months of his life wanting to share the gospel and his story to make an eternal impact. He was an amazing husband, father of four children, son, brother and friend. He loved the Nebraska Husker's and followed every single sport they had, both male and female teams. He loved all sports. His good friend Seth Rexilius said it best, "Timm was thoughtful, smart, quietly competitive, humble, gentle, so witty and a dang good ping-pong player. He was never the loud star of the show, but always there, steady and strong."

Timm is survived by his loving wife Kelsey of 10 years, daughters Neva (8), Phoebe (6), sons Reed (4), Hank (1). Parents Dr. Thomas (Vivian Brinkmeyer) Bauer, Susan (John) Hall, Jeff (Molly) Reed. Brothers Dr. Ryan Bauer, Andy (Kinsey) Bauer, brothers in law; Joel (Jill) Reed, Timothy Reed, Luke Reed, David Reed stepbrothers; Dave (Michelle) Hall, Jim (Renee) Hall, Jeff (Jen) Hall, Chad Hall, and Nick (Jenna) Hall. Nieces Marlee & Quinlee Bauer, Nephews Clayton and Grayson Reed. Timm is also survived by many loving extended family, friends and friends who became family.

Timm was preceded in death by his grandparents Alvin and Mary Bauer, Norman and Janet Savery, aunts and uncles.

Timm will be forever missed but never forgotten.

"For to me, to live is Christ and to die is gain" Philippians 1:21

A celebration of life service will be held Thursday, July 11th at 11:00 am at City Light Church West, 3401 Oak View Dr., Omaha, NE 68144. A private burial will be held prior. Braman Mortuary will be assisting with the arrangements.

A special thanks to all who have prayed for Timm and his family. The acts of love and kindness are immeasurable and we are forever grateful.

In lieu of flowers, memorials are suggested to his wife Kelsey Bauer for later designation.


Previous Events
Celebration of Life
Citylight Church (West Location)
3401 Oak View Dr. Omaha, NE 68144
Omaha, NE 68144