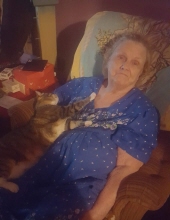 Obituary for Marjorie E. Richardson
Marjorie "Monnie" Richardson was born in Elkhorn, NE on December 4, 1931. The family later moved to Waterloo, NE, where she graduated from Waterloo High School. It was in this small town that she met Clint Richardson. After a short courtship they got married on January 22, 1951. They had 5 children: Pat (who was born while Clint was serving in the Korean War), Clint, Bob, Diane & Denise.

Monnie's life was simple as she was a homemaker, but always busy raising 5 kids! She especially enjoyed going out to dinner for her absolute favorite - fried chicken! She also loved the catfish dinners we had from the fish we caught out of the Platte River at our cabin. Monnie enjoyed going out to the river with her children and enjoying great BBQ's & sitting around big bonfires.

She was preceded in death by her husband Clint and infant grandson Kevin Shurtleff. She is survived by her children: Pat Shurtleff, Clint Richardson, Bob Richardson, Diane Bailey & Denise Richardson. She had 5 grandchildren, Randy Shurtleff, Nick Bailey (Crista), Tony Bailey, Kelly Bailey & Dylan Bailey. She had two great-granddaughters, Willow Bailey & Meadow Bailey.

She was quirky, silly & had a great sense of humor. Her greatest treasure in her life was her family, which came through in the profound love she showed to each one of them. We all loved her back just as much and she will be thought of often and sorely missed.

Love you always Gam.
Events
Event Information
Private services were held