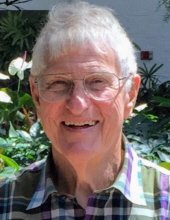 Obituary for Archie L. Sutfin
Archie Lincoln Sutfin, age 85, passed away on November 25, 2019 in Omaha, Nebraska after a courageous fight of a relatively new onset of lung disease.

Archie was born to Arch Vernon and Cretoria Sutfin in Syracuse, Nebraska on June 28, 1934. He grew up on a farm in Syracuse that he continued to own and run until the day of his death. He was taught by his mother in a one-room schoolhouse through eighth grade then went to high school in town. Archie joined the Army in 1956 and proudly served our country for 3 years. Following his service, he worked for the railroad and ultimately became a steamfitter working at Northern Natural Gas, Brownville Power Plant and at Honeywell (Omaha) until his retirement. He proudly belonged to Local 464 Steamfitters Union and loved to attend the steamfitters' picnic and luncheons over many years.

Archie retired at the age of 62. He greatly enjoyed fishing, hunting, attending the music and sporting events of his grandchildren as well as Cornhusker football and baseball, cooking, his dog, traveling, winters in Florida and much more. Mostly, however, he just loved his family. He was so very proud of his children and grandchildren and could be caught bragging frequently. Archie was a caring, ornery, and loving man. During a recent hospitalization, Archie asked his pastor for prayers of gratitude stating, "I am so thankful for my family."

Archie had found love as a young man and married Norma Kroeger. After her death early in their marriage, he met and fell in love to the mother of his children, Mary Ann Sutfin. They were happily married for 50 years. He adored her and felt a big loss when she passed away in 2014. His heart was big, and with a little luck, he found great companionship and love with Mary Taylor. They married and have had a beautiful four years together with lots of laughter. Archie was a very loyal man to his family and country. He will be missed greatly.

Archie is preceded in death by his parents, Arch Vernon and Cretoria Sutfin; wives, Mary Ann Sutfin and Norma Sutfin, and half-sister, Maxine Heppler.

Archie leaves behind his wife, Mary Taylor; children, James (Julie), Amy (Robert), Jackie (Phil); and nine grandchildren.

Please join Archie's family for a Visitation from 5p.m. to 8p.m, Tuesday, December 3, 2019 and a Celebration of Life at 10:30 a.m, Wednesday, December 4, 2019 both at Water's Edge Church 19600 Harrison St, Gretna, NE 68028.

The Family is requesting donations to Water's Edge Church in lieu of flowers.


Previous Events
Visitation
The Waters Edge Church
19600 Harrison St.
Gretna, NE 68028
Memorial Service
The Waters Edge Church
19600 Harrison St.
Gretna, NE 68028
Memorial Contribution